Are you struggling to get your child to like broccoli? It's most likely because you have been boiling or steaming the broccoli, which makes this amazing vegetable boring and tasteless for many.
You should definitely try a much better cooking method: roasting. Roasting vegetables in the oven is a healthy cooking method which will bring out the rich flavors in the vegetable, eliminating the need for any dressing.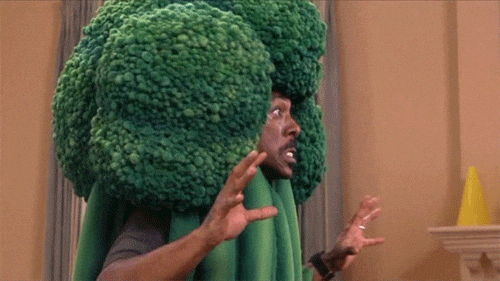 If you are looking for a snack or a side dish that is healthy and delicious like popcorn at the same time, this simple recipe is for you. As I am typing up this recipe, I am already thinking about making some popcorn broccoli for dinner tonight.
In most of my cooking I prefer using natural ingredients. As you see below, I used fresh garlic instead of garlic powder; however, you can get creative with your spices. But honestly this was the most flavorful dish ever without any powders other than salt and pepper. Once again, roasting is a powerful form of cooking veggies.
Popcorn Broccoli Ingredients
2 bunches of fresh broccoli
4 cloves of fresh garlic
Extra Virgin Olive Oil
Salt and pepper to taste
Directions
1. Preheat the oven to 400 degrees.
2. Wash the broccoli and strain. Dry it off with a towel.
3. Chop the broccoli into small pieces. You can also use your hands for this part. Chop the heads into bite-size pieces.
4. Place the broccoli on a baking sheet.
5. Mince the garlic and add it on the baking sheet
6. Add olive oil, salt and pepper in; mix all ingredients using your hands. Rub the broccoli with garlic.
7. Evenly distribute the broccoli pieces and garlic. Space them out so they don't steam.
8. Roast the broccoli in the oven for about 30-35 minutes or until brown and crispy on the edges.
9. Enjoy!
This recipe brings fun and health together. Whether you're a vegan or not, this dish is packed with health since it is made with olive oil only. Unlike buttered up popcorn in pre-packaged microwave bags, this recipe contains zero saturated fat and cause no harm to your heart. Broccoli combats cancer and improves gut health; thus protects us from many diseases. The use of garlic in this recipe maximizes the health benefits of this dish.
Check out another yummy and healthy (vegan) party snack recipe by me below.
Raw Cocoa Balls
I will be sharing my favorite black eyed pea salad this week. Do you like my recipes? Leave a comment below and let me know.
Love,
Müge